RXML parse error: Attribute 'src' cannot be empty
 | <emit format="jpeg" jpeg-quality="1" nodata="1" source="cimg" src="">
 | <cache minutes="5" variable="var.picture-src">
 | <trimlines>
 | <cache enable-protocol-cache="yes">

RXML parse error: Error in expr attribute: syntax error, unexpected '*'
 | <set expr="floor( * 540)" variable="var.adjustedW">
 | <cache minutes="5" variable="var.picture-src">
 | <trimlines>
 | <cache enable-protocol-cache="yes">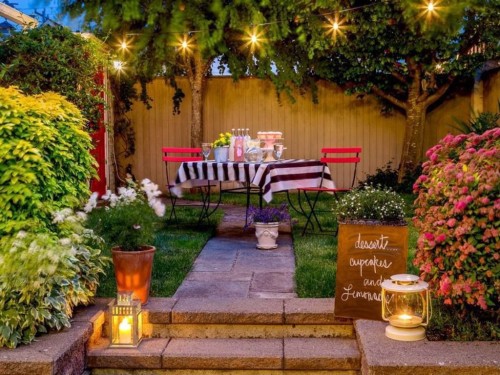 Good friends, nice weather and great food. Add a spectacular location, and you've got everything you need for outdoor entertaining.
If your backyard is less than celebration worthy, don't fret. Even the most boring lawns can be party-ready with minimal investment of time and money.
Let there be light
Much like interior lighting, outdoor lighting works best when it's layered. The American Lighting Association suggests overhead lighting to ensure guests can see steps, paths and other walking surfaces.
Jeff Dross, corporate director of education and industry trends with Kichler Lighting, says paths don't need to be completely lit, and you don't need to make it so bright that your guests need sunglasses well past 10 p.m. "But it's good to provide light where there's a bend or an intersection, or as you turn a corner or approach steps," he said.
Lighting can be used to create entertainment areas within your yard: string lights in a tree or a chandelier hanging in a gazebo, for example.
You'll also want to install backlights or spotlights that shine on arbors, pergolas, patios and fountains. Well-placed lighting will focus attention on the architectural details and natural beauty of the space.
Chair extraordinaire
Past-its-prime lawn furniture and rickety folding chairs aren't exactly welcoming. Invest in some comfy padded outdoor pieces — a loveseat, chairs and an ottoman — to create a beautiful outdoor living space. Stackable outdoor chairs can be easily stored when not in use.
To encourage guests to venture off the deck and into other areas of the yard, consider using an outdoor rug to create a gathering spot, complete with beach chairs and colorful pillows, under a shady tree.
Tune in
Music can provide the perfect background for conversation and games, or it can be exactly what you need to get the dancing started.
You can install a quality outdoor speaker system — speakers, receiver, wiring and weatherproof volume controls — for $1,000 to $2,000. Wireless outdoor speakers also are a good option. Look for speakers that are compatible with a wide range of products; many wireless speakers come with a cradle that allows you to directly connect your iPod or iPhone. The best wireless speakers stream music over a Bluetooth connection or Wi-Fi network, which means you won't need a transmitter for your media device to communicate with your speakers. Expect to pay in the $150 to $500 range.
No matter which type of music system you decide on, be sure to place speakers where you can easily hear them but so that your neighbors don't have to.
Add some heat
To get the most out of your new-and-improved yard, consider adding an outdoor fireplace. If you're not up for the permanence of a fireplace, a fire pit or chimineas might add the ambiance — and warmth — you desire.
A fixed or portable outdoor heater may not hold the same charm as a roaring fire, but it can cut through the cold with the flip of a switch. Regardless of your choice, a heat source will mean outdoor parties can continue well into the fall.
Related:
Mary Boone is a freelance writer for Zillow Blog. Read more from her here.